For today's blog post, I wanted to share with you my top 4 favourite upper body workouts that I have taken from my Instagram page. Each of these workouts can be performed at home. Additionally, these workouts are suitable towards all levels of fitness including those of you who are still at a beginner level.
Below are the four workouts divided into body splits. The first two workouts are aimed at strengthening the chest and triceps, whereas the second workout is aimed at strengthening your back and biceps. Each upper body workout can be performed at home provided that you have access to minimal equipment. Before I share the workouts, I wanted to share a small analysis of why training your upper body as a female is important towards achieving a toned and aesthetic physique. This is as opposed to simply training lower body in fear of looking 'masculine'.
Why tone my upper body?
A toned upper body is a symbol of strength and hard work, I think that this is universal and not gender-specific. A lot of women shy away from training their upper bodies and mainly strength train their lower ones out of fear of looking 'masculine'. While having shredded biceps and triceps is not classically feminine nor is it socially encouraged, it will not come as a result of isolating them through strength-training.
Rather, by strengthening the muscles in your upper body, you can create a symmetrical, aesthetic and well-developed physique.
Female fitness models with curvy and toned upper bodies
Below are three physiques that will inspire you to take your upper body training more seriously if you are not already. For the sake of brevity, I will analyse just one of them. Let us look at Olympia champion Ashley Kaltwasser's physique. When you look at her physique, the first thing you see is how her body looks like as a whole. Seldom would you magnify or hyper-focus on just one of her muscles.
A woman's physique is best-judged as a harmony of all it's parts
Imagine Ashley did not train her upper body, she would not look as aesthetic.
When assessing Kaltwasser's muscular development, I like to think of every muscle meshing into each other to create her physique. Also notice how soft her muscles are, there are hardly any edges in her physique, it is far from the masculine-style of muscular development.
A man's physique can be ranked as aesthetic through it's hardness, a woman's can be through the balance of both hardness and softness or "contouring".
Contouring a female body through weight-training and diet is in any view an improvement from it's original shape.
Ashley Kaltwasser's overall physique can best be described as symmetrical and well-developed. As you can see in the picture below, she trains her biceps, chest, shoulders and most probably her back and triceps too. She gets her upper body to match her lower body through strength training, and this undeniably gives her an edge over some newer fitness models or IG fitness influencers who only train their glutes and lower bodies.
While symmetry is a feature of attractiveness, disproportion throws us off. While having upper body strength alone is not sought after, having a larger lower body in my opinion lacks in aesthetic.
3 Fitness models who will inspire you to train your upper body: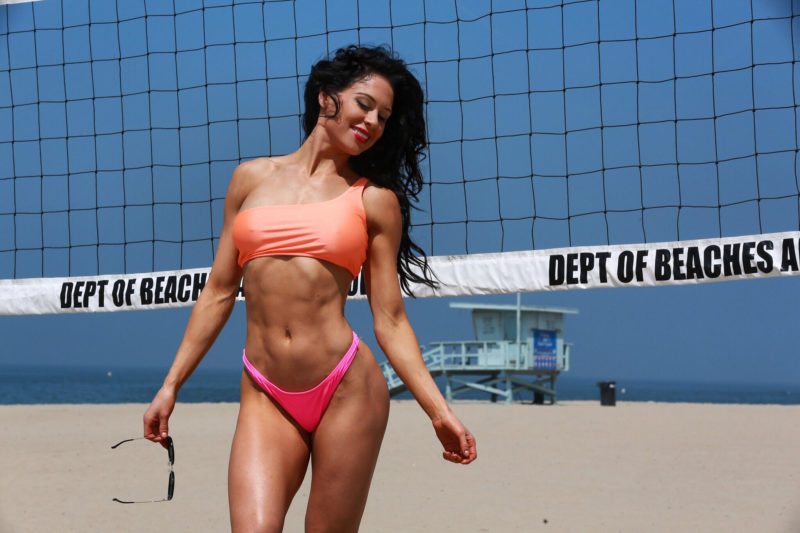 Workout #1: Chest and Triceps Workout
Difficulty Level: 
All levels
Equipment Needed: 
Mat, resistance band, dumbbell
Workout #2: Back and Biceps Workout
Difficulty Level: 
All-levels
Equipment Needed: 
Resistance band, dumbbells
Workout #3: Chest and Triceps Workout
Difficulty Level:
 Beginner and all-levels
Equipment Needed: 
 Resistance band, bench, dumbbells
I hope that you guys enjoyed this post, please let me know what you thought of the short analysis on upper body training and the workouts in the comment section below.